Seven Essentials Beverage Mix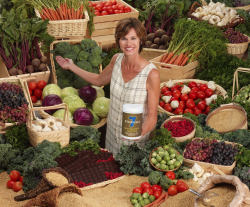 What is Seven Essentials?
Seven Essentials is a powdered, antioxidant-rich mixture of nutrient dense foods.
Each component of Seven Essentials was hand-picked by Dr. William Kellas of the Center for Advanced Medicine as being the most nourishing food(s) in its category.
Seven Essentials has a pH neutral or slightly alkaline reaction in the body.
Seven Essentials digests - its ingredients are well suited to passage through the digestive tract together.
Seven Essentials contains beneficial bacteria to help maintain an abundance of protective bacteria in the intestines.
Seven Essentials good taste may be its best feature - most other vegetable rich, nutrient dense food concentrates taste terrible.
Seven Essentials fits Dr. William Kellas's philosophy for wise eating, which is: 'We should half-up on calories and double-up on nutrients.'
Seven Essentials contains:
RiSoTriene - the soluble, pre-digested, stabilized germ and bran of rice. About half of the total weight of Seven Essentials comes is RiSoTriene. It is the main ingredient. RiSoTriene is probably the most antioxidant abundant food on earth and is teeming with healing nutrients of many types. [Learn more about RiSoTriene]
Fiber - the next most important component of Seven Essentials is the rice fiber complex. Fiber is tremendously important in ensuring maximum digestion and assimilation of food by slowing transit through the digestive system.
Kona Minerals - highly assimilable minerals and trace minerals (70 total) from a pristine, deep ocean source that has no heavy metals or pollution. [Learn more about Kona Deep Sea Minerals]
High Quality Protein - either lactose-free, casein-free, pre-digested whey protein with a molecular Dalton size of only 700 (for virtually complete assimilation) or a high-quality rice protein for vegans.
Flash Glanced Vegetables - ten different vegetable (spinach, kale, parsley, broccoli, brussel sprout, beet, cabbage, carrot, garlic, tomato) that have been dried without damaging heat. The vegetables are virtually as bio-available as the fresh vegetables.
Probiotic - lactobacillus salivarius (one of the most prolific protective bacteria).
Adaptogens, enzymes and additional antioxidants - ginseng (now called eleuthero root), grape seed extract, quercitin, selenium-grown broccoli, 95% polyphenol blend, Vitamin D3, invertase, amylase, lactase, protease 4.5, cellulase.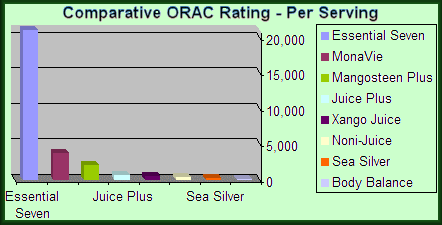 The ORAC rating of Seven Essentials is 21,010 units per serving. This is equivalent to 42 servings of vegetables. As shown in the chart above, nothing comes close.
Please note that Seven Essential's ORAC power does not come as a result of any single isolate or food. It is the result of a combination of numerous antioxidant foods. True antioxidant power is only as good as the weakest link. Seven Essential is balanced, with no weak link. Seven Essentials has been frequently tested at Brunswick Laboratories and there has never been a significant variance in its ORAC score.
Seven Essentials comes in six flavors (in order of popularity):
Chocolate
Power Fruit
Berry
Natural
Vegetable
Apple Cinnamon
To purchase, go to www.e7.healthy-living.org .